As soon as you turn into a freelancer (also known as zzp'er in the Netherlands), you're free to choose the transportation method for commuting. Which I consider one of the benefits of being a freelancer.
So you can choose to walk, cycle, drive etc.—or to use public transport.
And if your commute is long, the number of choices is in principle down to just two: car or train (plus, optionally, bus, train, or metro).
Public transport
As for driving, it needs a separate post to explore its numerous aspects. For now I'll focus on using the public transit system (OV, openbaar vervoer in Dutch) in the Netherlands.
This system offers numerous benefits:
It's cofmortable: it's usially clean, dry, quiet and air-conditioned;
It's convenient: you're free to do whatever you like, including but not limited to sleep;
It makes it easy to get to popular places;
It allows you to avoid traffic jams;
It's much cheaper than driving when travelling to a city centre;
You may skip buying a car altogether, which is what many people living in Amsterdam do;
It's the best option from the sustainability perspective. For instance, all NS trains are running on green energy.
At the same time public transport is also not entirely free from disadvantages:
Getting to remote destination requiring multiple changeovers can take two or even three times as long compared to driving;
It may be overcrowded during rush hours;
Given a free parking spot, public transport is often more expensive, especially compared to car-pooling;
It experiences disruptions from time to time.
In other words, the perfect choice dependens on your specific circumstances.
Trains and the NS Business Card
When it comes to the public transport option, a freelancer is in a much more favourable position than a regular citizen.
That's beause NS, the Dutch Railway Company, is offering the so-called NS Business Card. All you need in order to get one is sign up for a business account (NS Zakelijk), which, in turn, requires a valid KvK-nummer assigned by the Chamber of Commerce.
Benefits of NS Business Card
You get a Business Card for free, whereas a regular OV-chipkaart, being in fact exactly the same type of a contactless card, will cost you € 7.50 every five years.
It comes with no monthly charge by default, so you can order one and put it on the shelf until it's needed.
It's post-paid, so you pay all your trips afterwards, once a month. Until recently it was impossible for regular OV-cards, but nowadays there's also a post-paid option available with NS Flex.
Fixed-route subscriptions (Traject Vrij) are significantly cheaper their non-business counterparts.
Subscriptions are cancellable on any day after the first month, which is also something regular travellers don't have.
One card for all kinds of public transport: bus, tram, or metro.
NS Business Card owners get billed monthly and can return the VAT amount, like with other business costs. Furthermore, the costs are deducted from the taxable income and that makes it even cheaper.
Available subscriptions
If you regularly travel with the train, it's likely you'll be better of buying one of the provided subscriptions (all the prices are given for the cheaper 2 class trips):
| Subscription | Description | Monthly charge |
| --- | --- | --- |
| Dal | 40% discount on trips outside the rush hours on weekdays (09:00 until 16:00 and after 18:30), and all day in the weekend. | € 4 |
| Traject Vrij | Free trips on a fixed route, it also includes all the benefits of Dal (more on that below). | Depends on the route |
| Trein Vrij | Free train trips nationwide | € 317 |
| OV Vrij | Free trips in all kinds of public transport (train, bus, tram, metro) nationwide. | € 370 |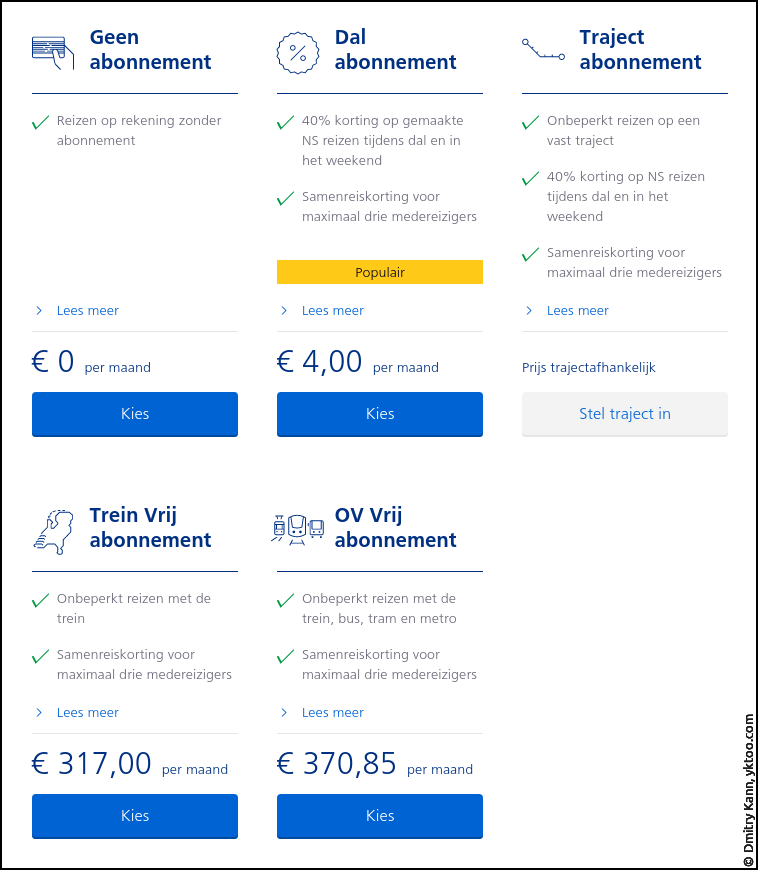 The Traject Vrij subscription
Many people commute along the same route most of the time (home to office and back). Their best choice can be the Traject Vrij subscription, allowing for unlimited free trips between two stations of choice (you can also get on and off at any intermediate station on that route).
The only exception are long-distance routes where it might be cheaper to purchase the nationwide Trein Vrij subscription.
Here's a sample calculation for the route Houten—Amsterdam Central Station: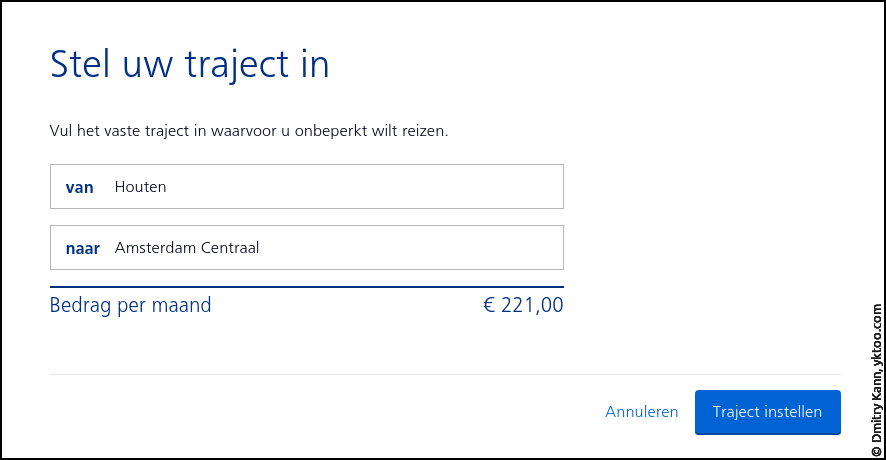 As you see on the screenshot above, it costs € 221 per month. Exactly the same subscription for a private person will cost € 301, which is quite a difference.
Additional services
All NS Business Card owners can make use of the following additional services:
Taxi
Rental bikes (OV-fiets)
GreenWheels rental cars
International trips with NS International
Q-Park parking at the P+R ("Park and Ride") rate
These services are then included in the same monthly bill.
Private trips
In my humble opinion, for private trips it's more convenient to have a separate OV-card from the accounting point of view.
On the other hand, you can classify your trips as business or private in your NS Zakelijk account, however it may complicate things, especially when it comes to VAT. ■