It's been for the first time that a support act was as interesting for me as the headliners. At the end of the day, all three participants of The Progressive Aspects Tour proved to be up to par!
It is pretty typical here in Holland to have an international line-up like this:
I'm very fortunate to have a preference for as underground music as progressive metal. That saves me a lot of money, allowing to watch three highly professional bands live for the ridiculous sum of €18.
I didn't take my camera with me, keeping in mind my past experience with De Boerderij on The Aristocrats, when I had to hand it in at the entrance. The only gear I had was my new GoPro Hero 5, which I slipped into my pocket. Which wasn't necessary as it turned out, as no one would care. Pity I didn't take a selfie-stick at least.
So please don't mind the quality of the photos taken with my mobile. The video quality, on the contrary, is quite decent. Many cameras have microphones with a very limited dynamic range, which causes a lot of sound clipping during rock concerts, but my GoPro handled it without a glitch. The only thing missing here is optical zoom.
Despite the low ticket price, the hall in De Boerderij was as good as empty. Perhaps it was caused by school holidays in Holland, during which many families leave the country.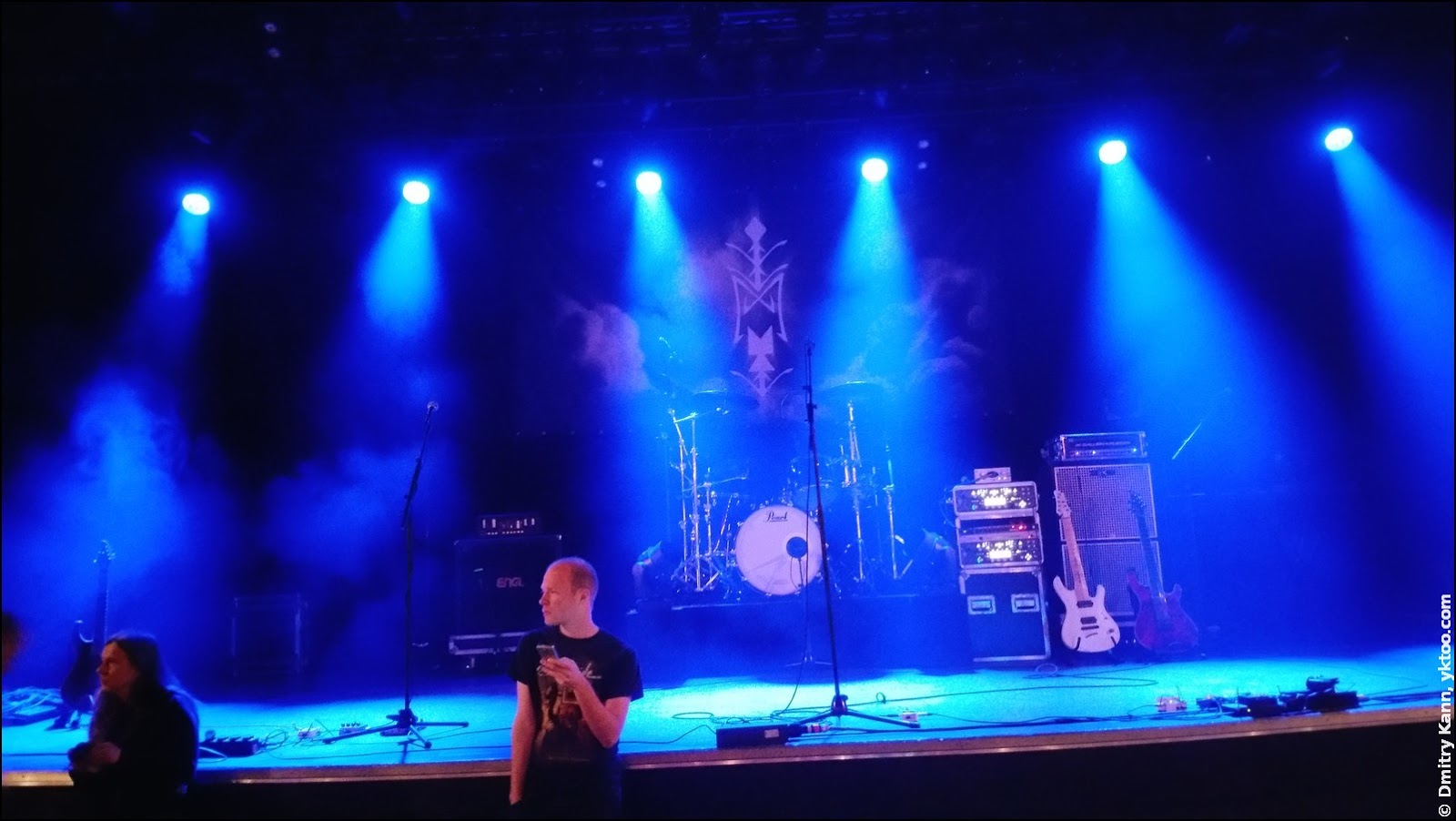 The not-so-large CreativeColors Zaal hosted some thirty people of audience. A bunch of photographers, who didn't seem to be carried away by the music, would jump around with their shotgun-like cameras, trying to make their best shot. Which I found quite annoying (and no, I ain't jealous).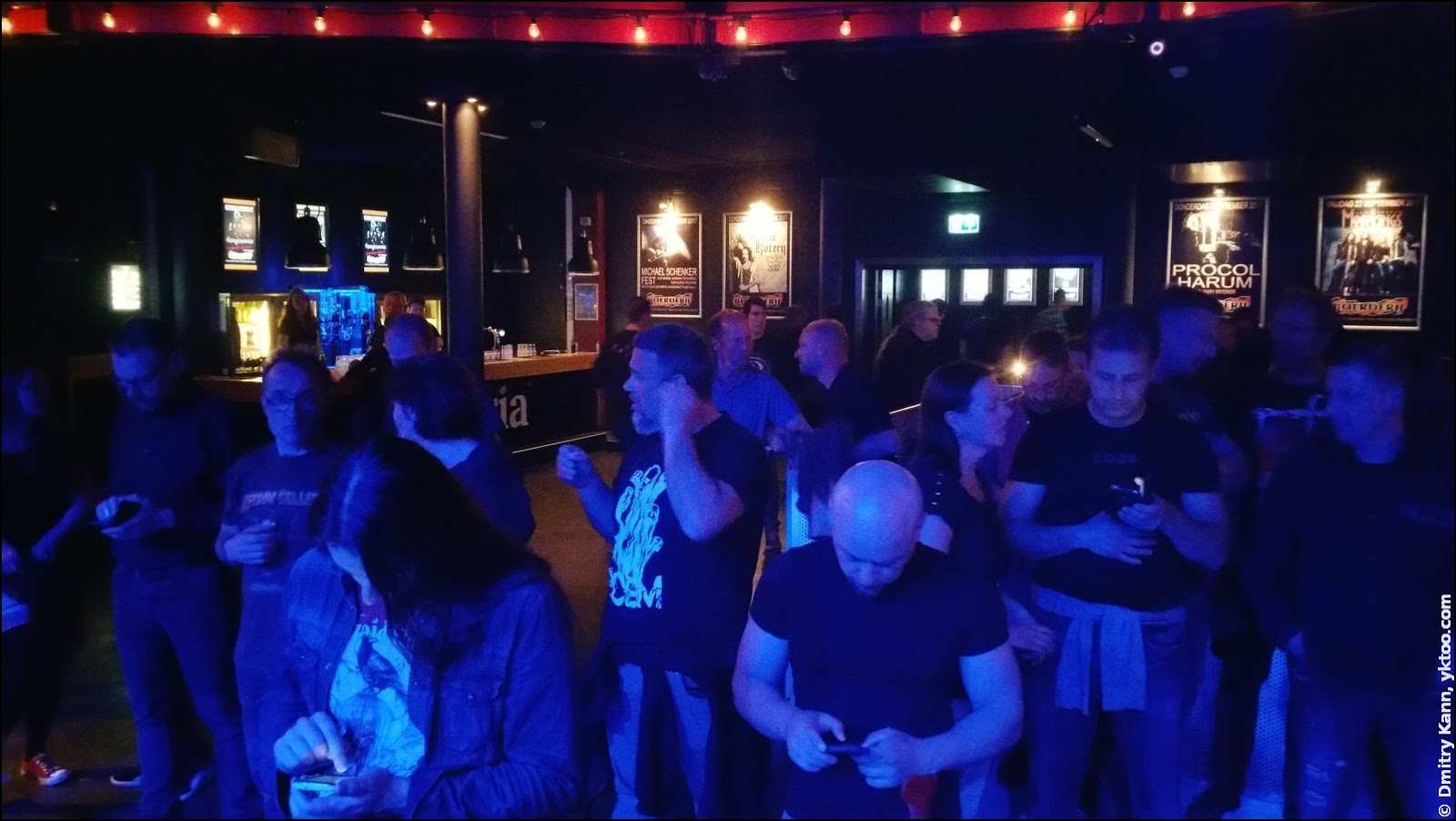 One of the reviews reports of two hundred spectators of this show, but you can see on the photo above that doesn't check out.
Oddland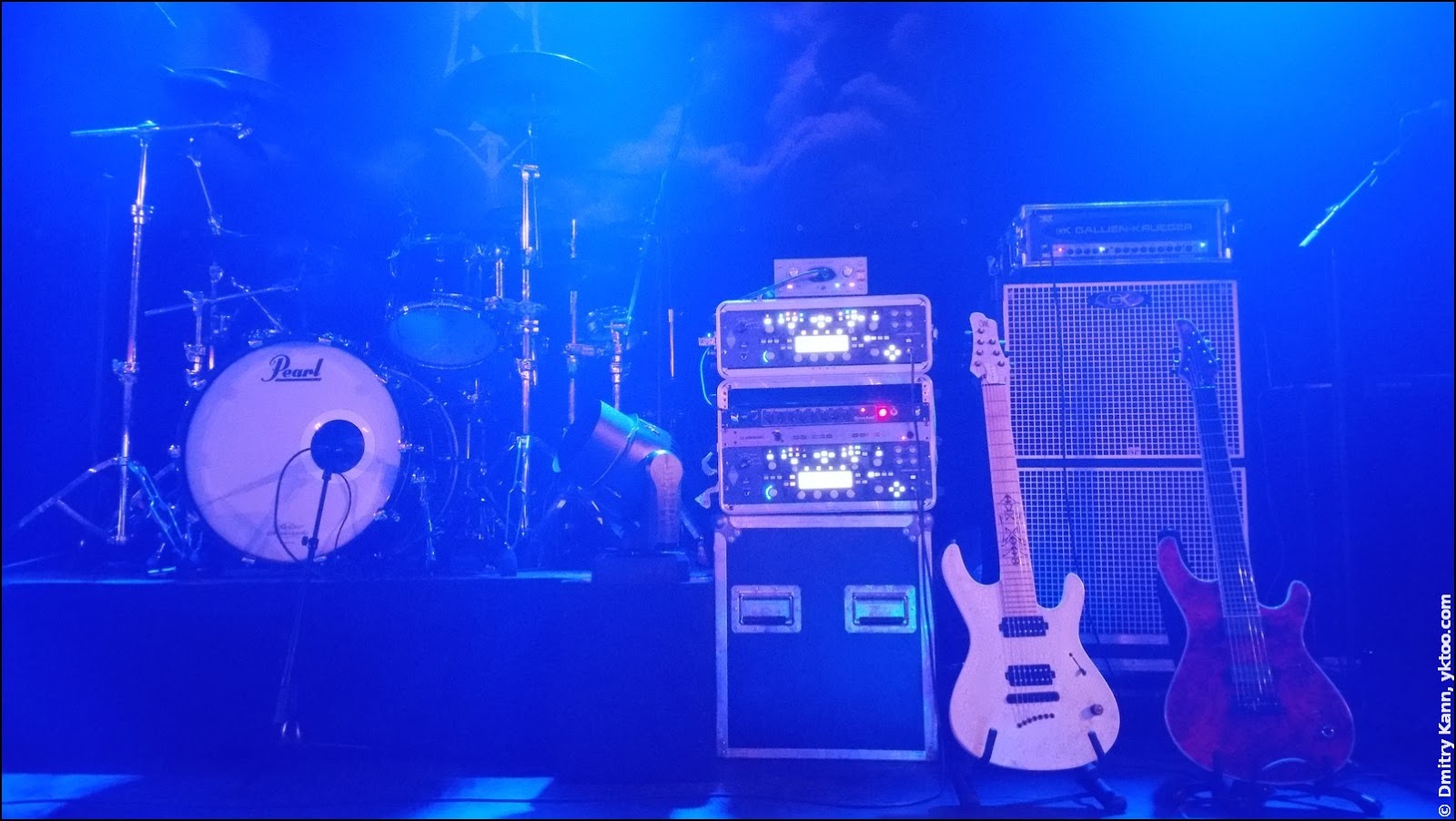 For me the almost-empty room was pretty flattering, but I felt a bit bad for the musicians. I remember from my own staging experience how disconcerting that might be. Even the sturdy Oddland dudes seemed to be upset by that.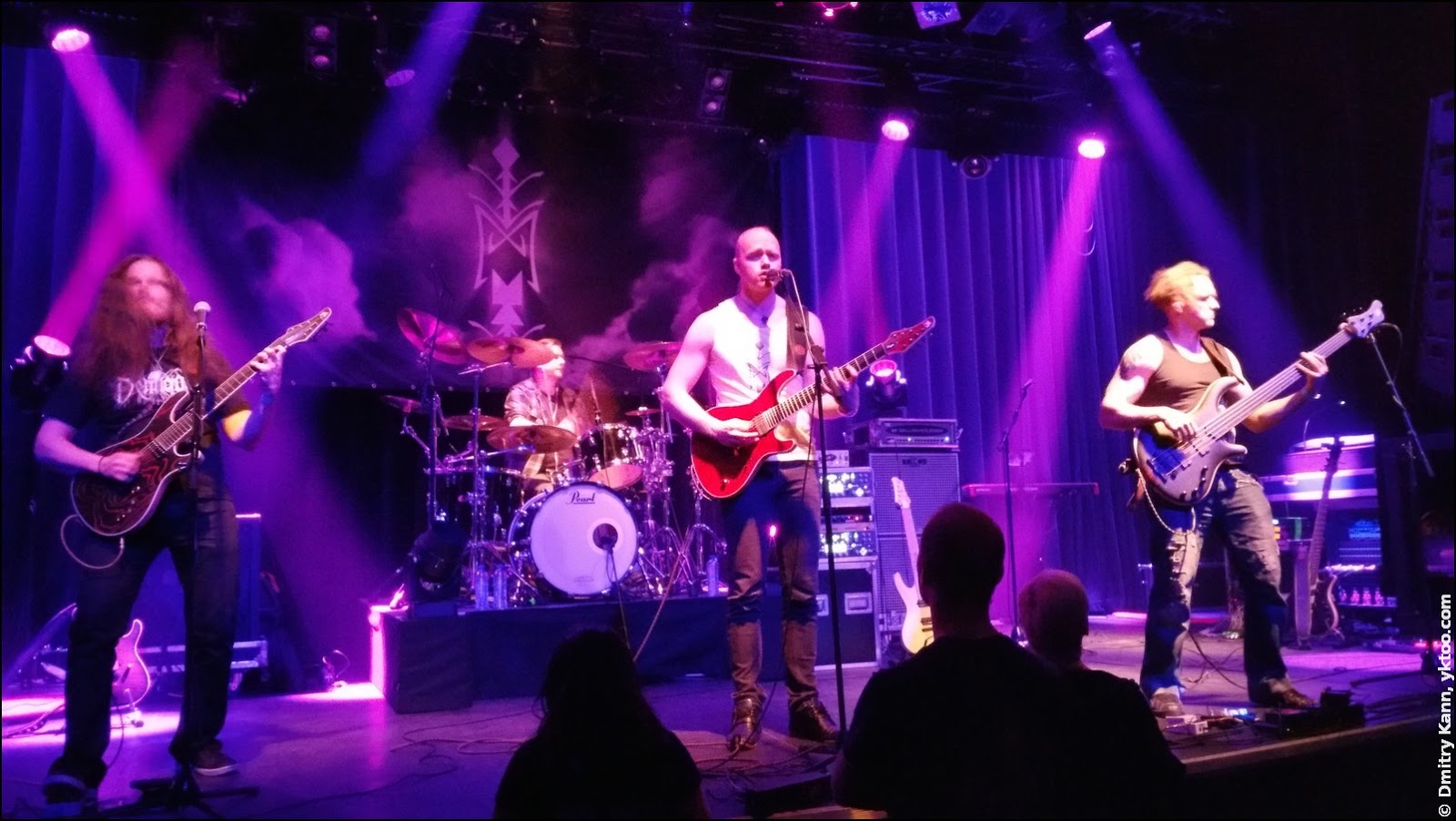 The band's frontman and singer Sakari Ojanen opened the show with a disclaimer that he wasn't in his best shape and that two days ago he couldn't even speak.
But to his credit I must say I didn't catch any false note or a break-off. On the technical side the guys were brilliant. At the same time, it's quite common with progressive music that you need a while to let it sink in. As I never heard this band before, I had some hard time diving into the intricacies of their compositions.
Both guitarists, Sakari Ojanen and Jussi Poikonen, play seven-string guitars, which are usually used to expand the sound into the lows. Combined with the rich baritone of Sakari it gives the music some doom-ish tint, as you feel it resonate somewhere inside your stomach.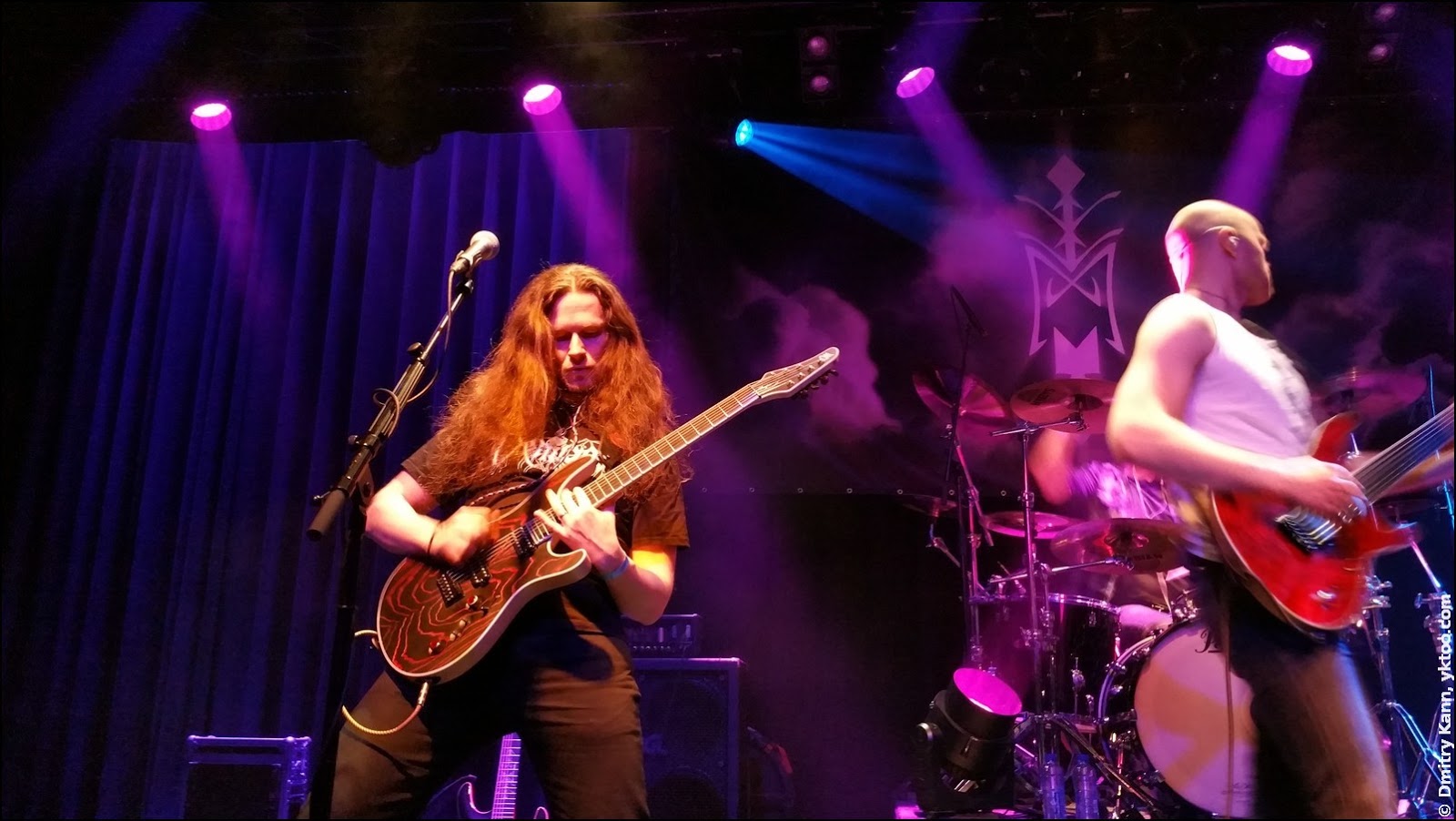 Their music sounded like heavier versions of Sieges Even (and Subsignal).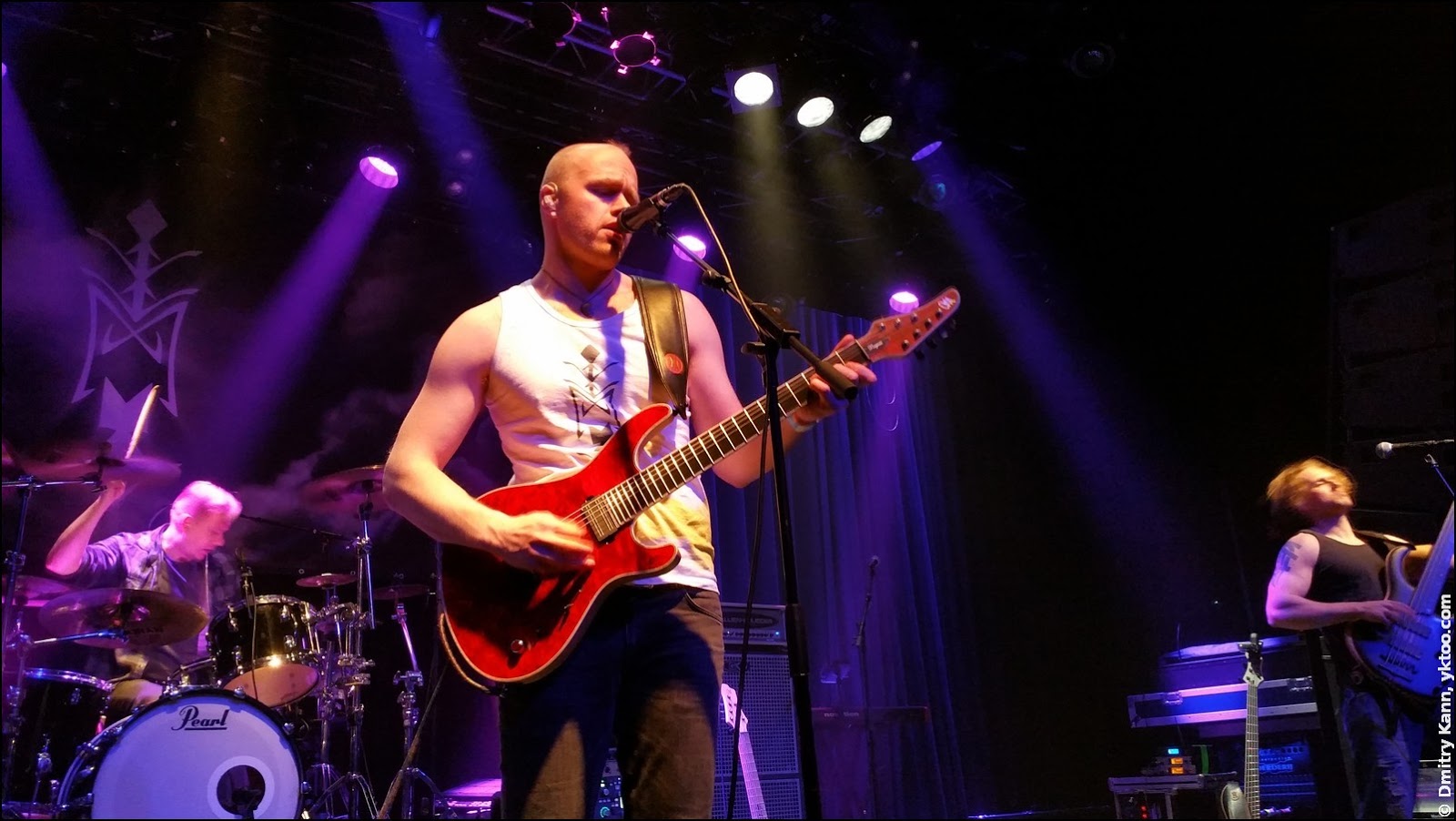 Brawny and utterly serious Joni Palmroth played five-string bass, time to time contributing his growls to the sound.
Here's a moment when all three use tapping technique: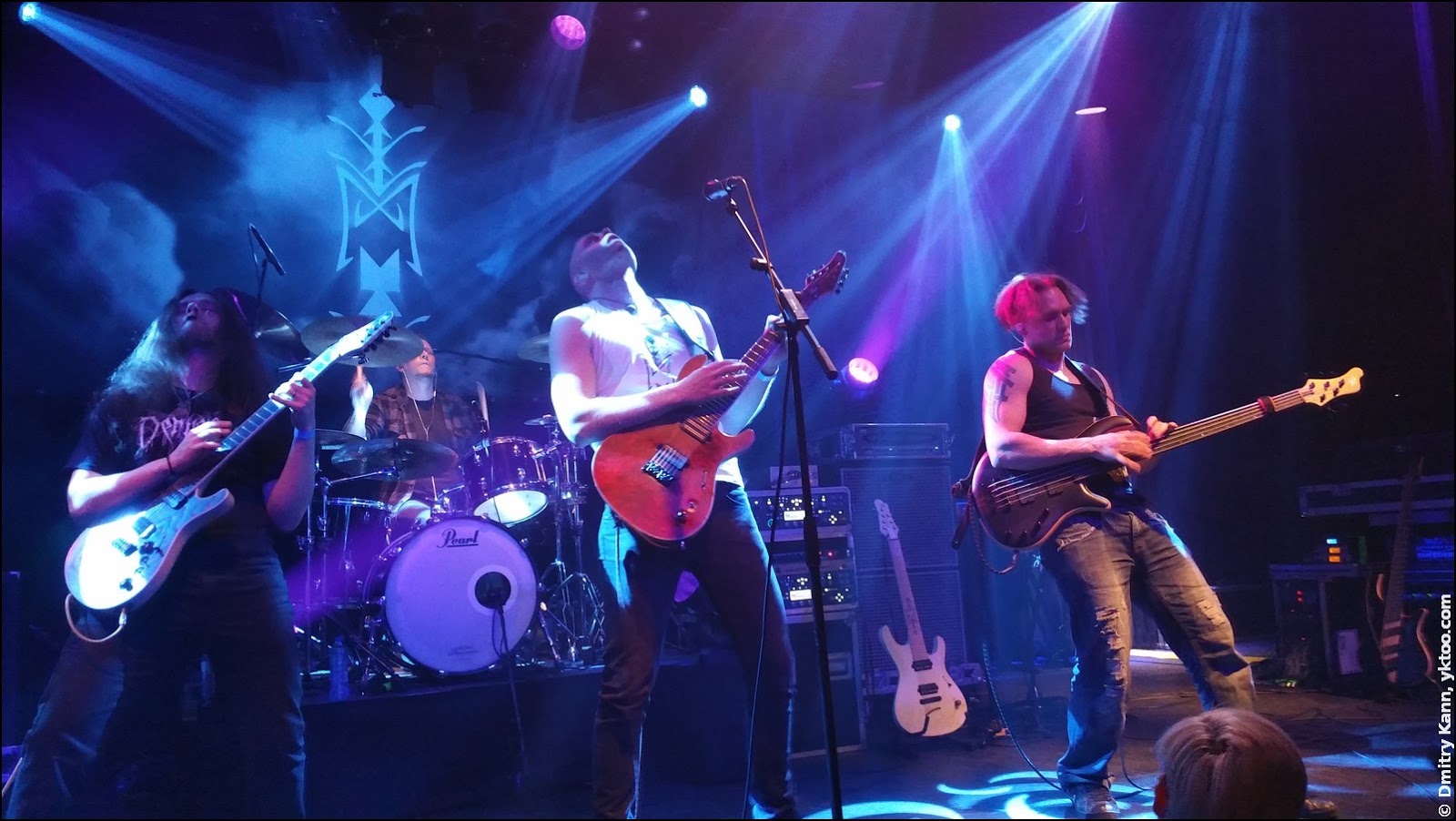 My conclusion is that this band is well worth listening to, so it goes to my progressive piggy bank.
Until Rain
I've been listening to these guys for about a year now, and I was looking forward to seeing them live. The band only has three full-length albums to date, with the most recent Inure being out just a day before the show.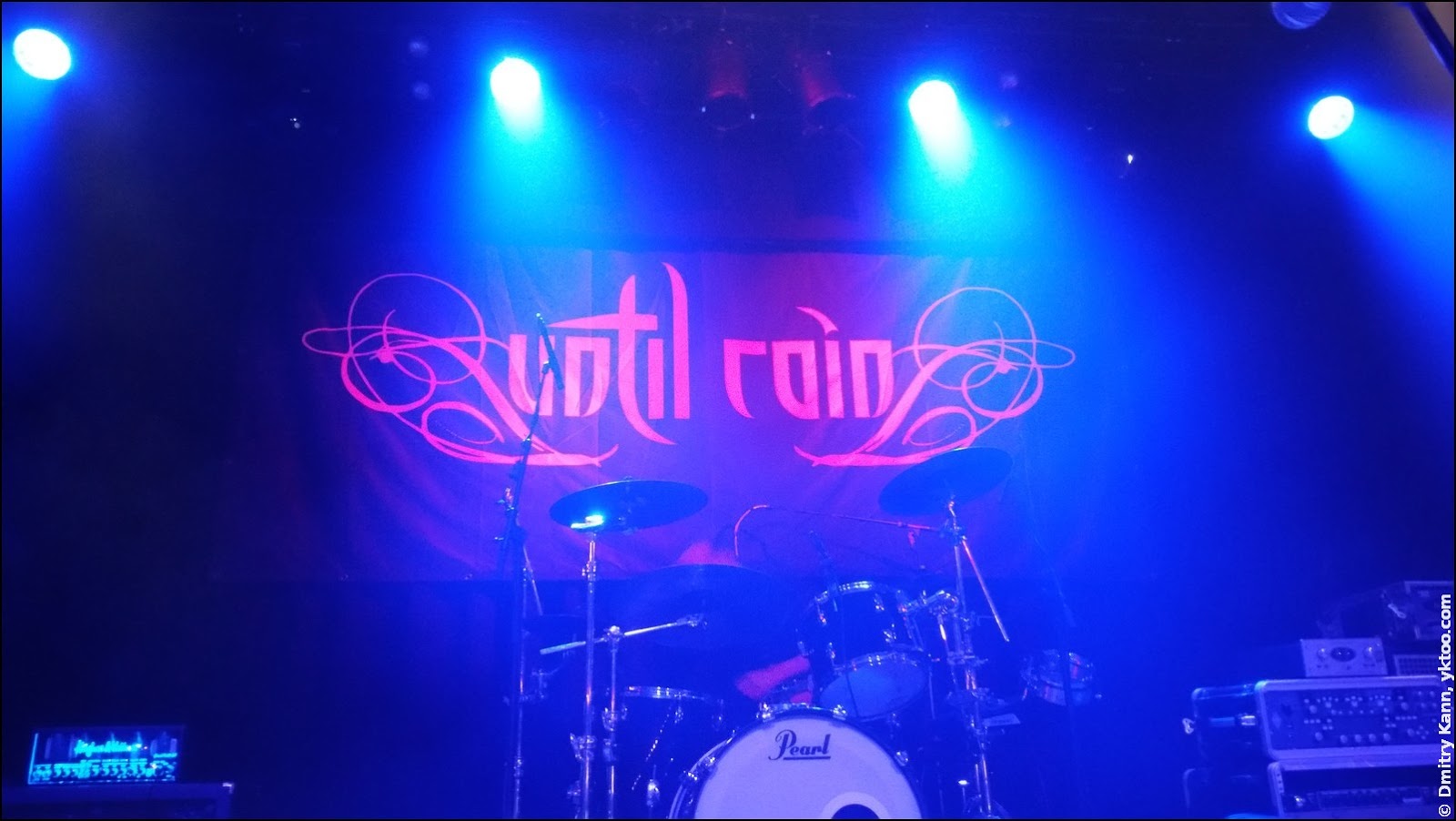 The live line-up of Until Rain is diverse:
Konstantinos Margaritis a.k.a. Cons Marg — vocals (Greece).
Theodore Amaxopoulos — guitars (Greece).
Lef Germenlis — keyboards (Greece).
Denis Efimenko — bass (Ukraine).
Matthew Vella — drums (Malta).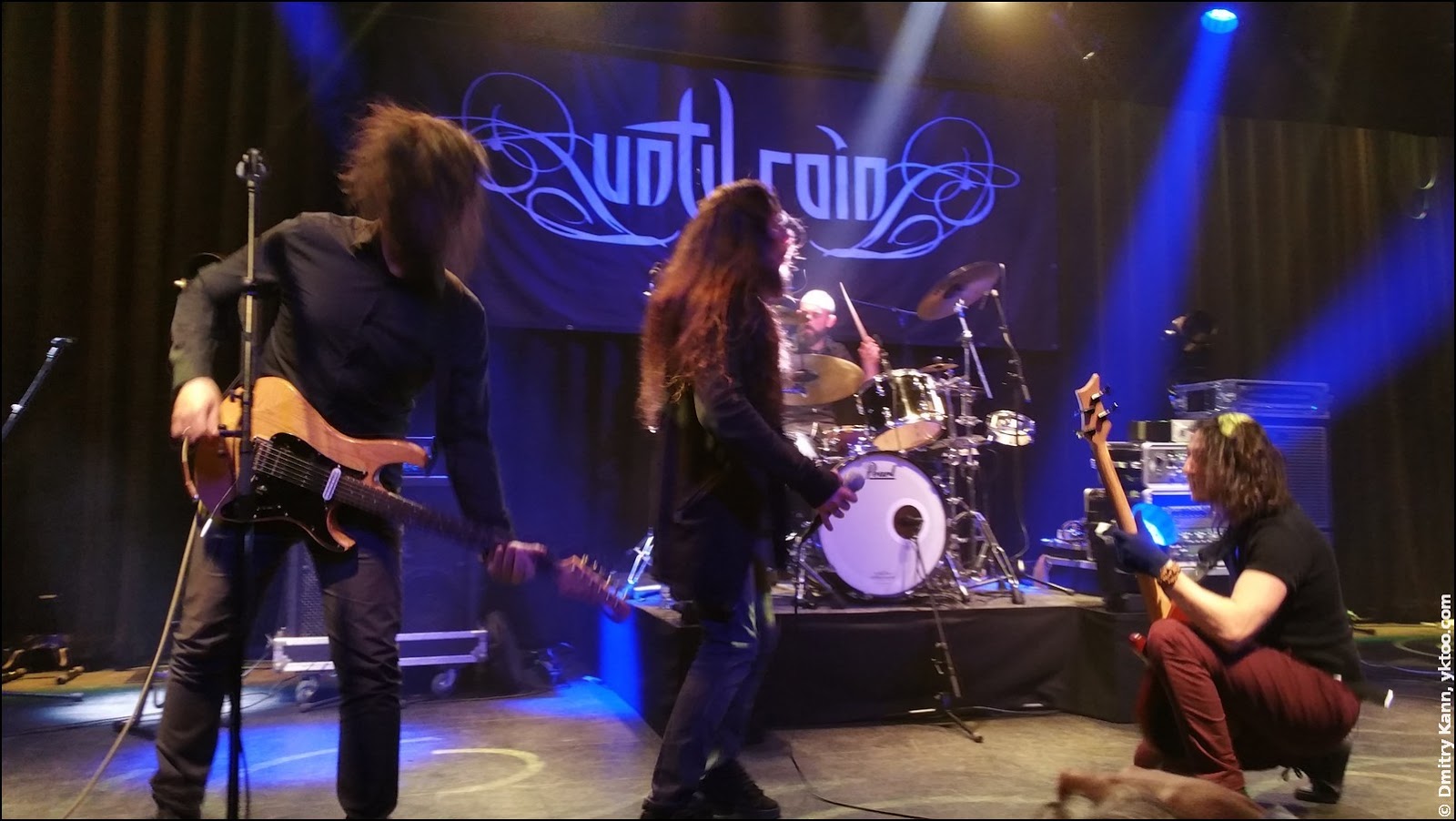 Until Rain are a cheerful and positive lot, which anyone can verify by watching their Because Something Might Happen, stuffed with horror and BDSM scenes, from the band's latest album:
I must also mention the vocals by Cons Marg possessing an incredible vocal range. I wish Dream Theater had a singer like him!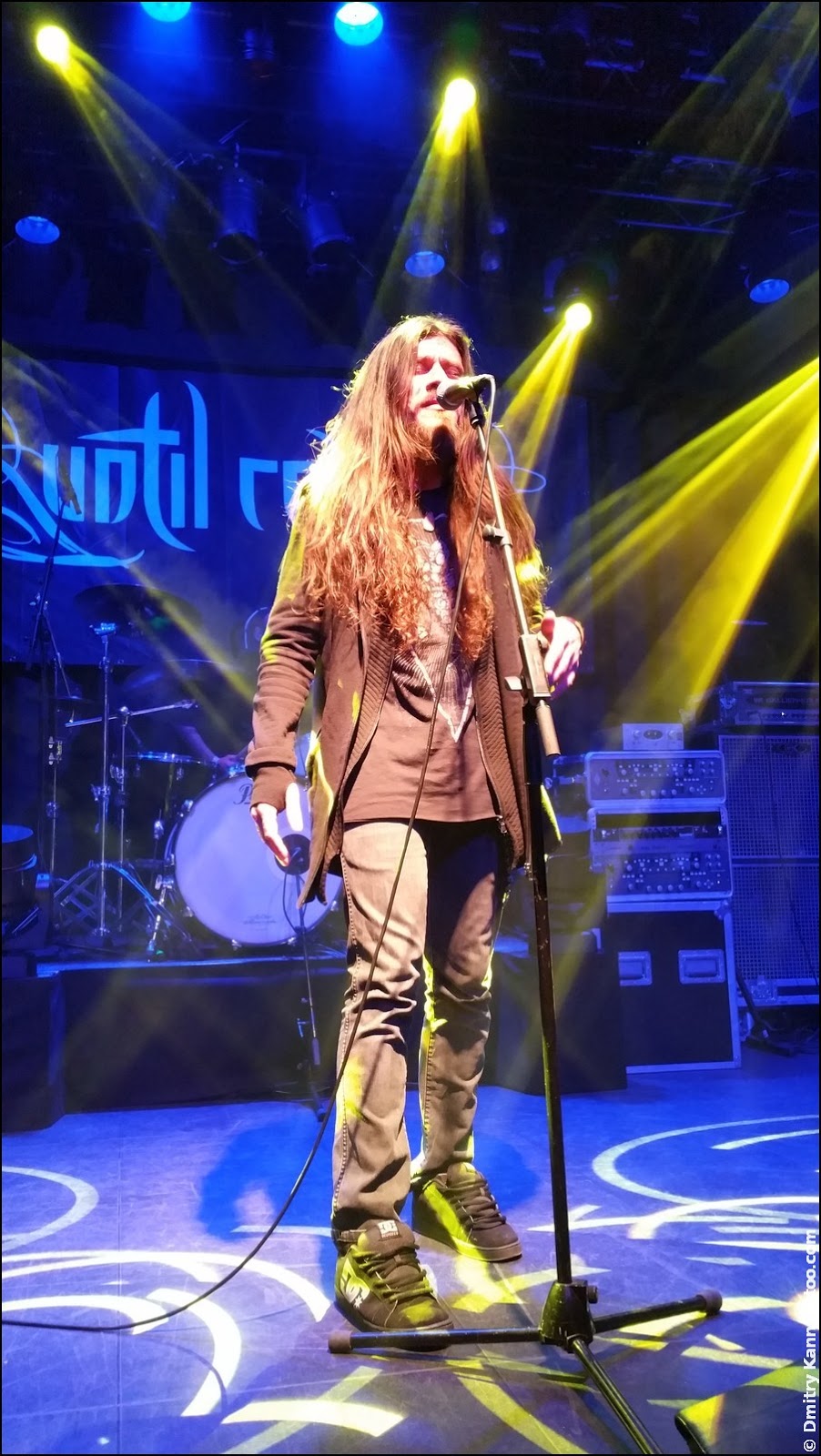 I managed to talk to Theodore Amaxopoulos (30), a very friendly person, after the show. I expressed my regrets in connection with the poor attendance, which he reacted on by saying they had to play for 11 people once and that they didn't mind.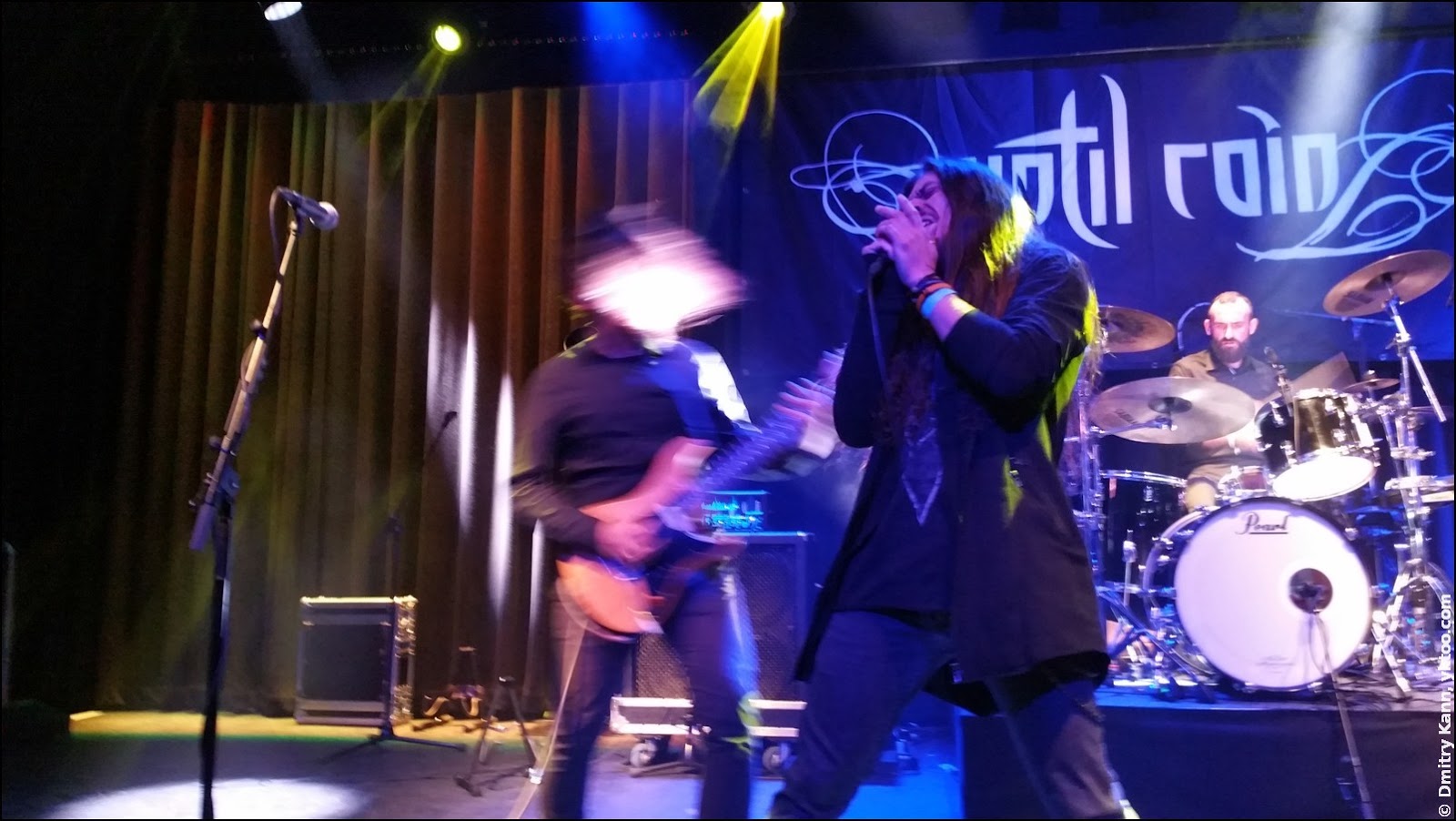 Anyway, I must admit the band's performance was amazing. Theodore also said he started playing guitar when he was fourteen years old, and that he also plays acoustic one.
Denis Efimenko (29) on the bass stands out because of the gloves he's wearing during playing. Although that didn't seem to negatively impact his play as far as I could tell.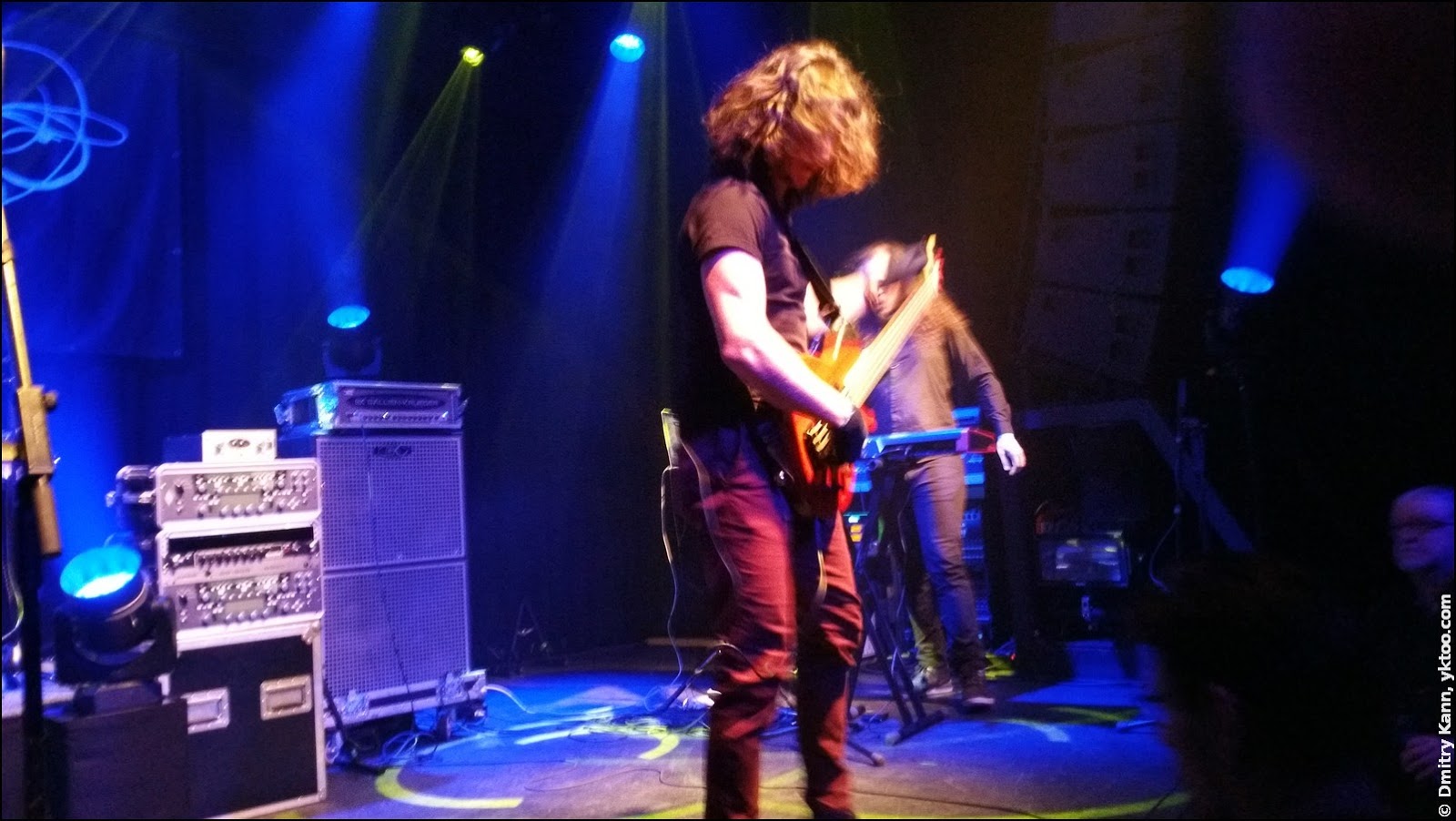 Thanks to the low attendance it was easy to chat with the musicians after the show. And to make a traditional dark photo with the band: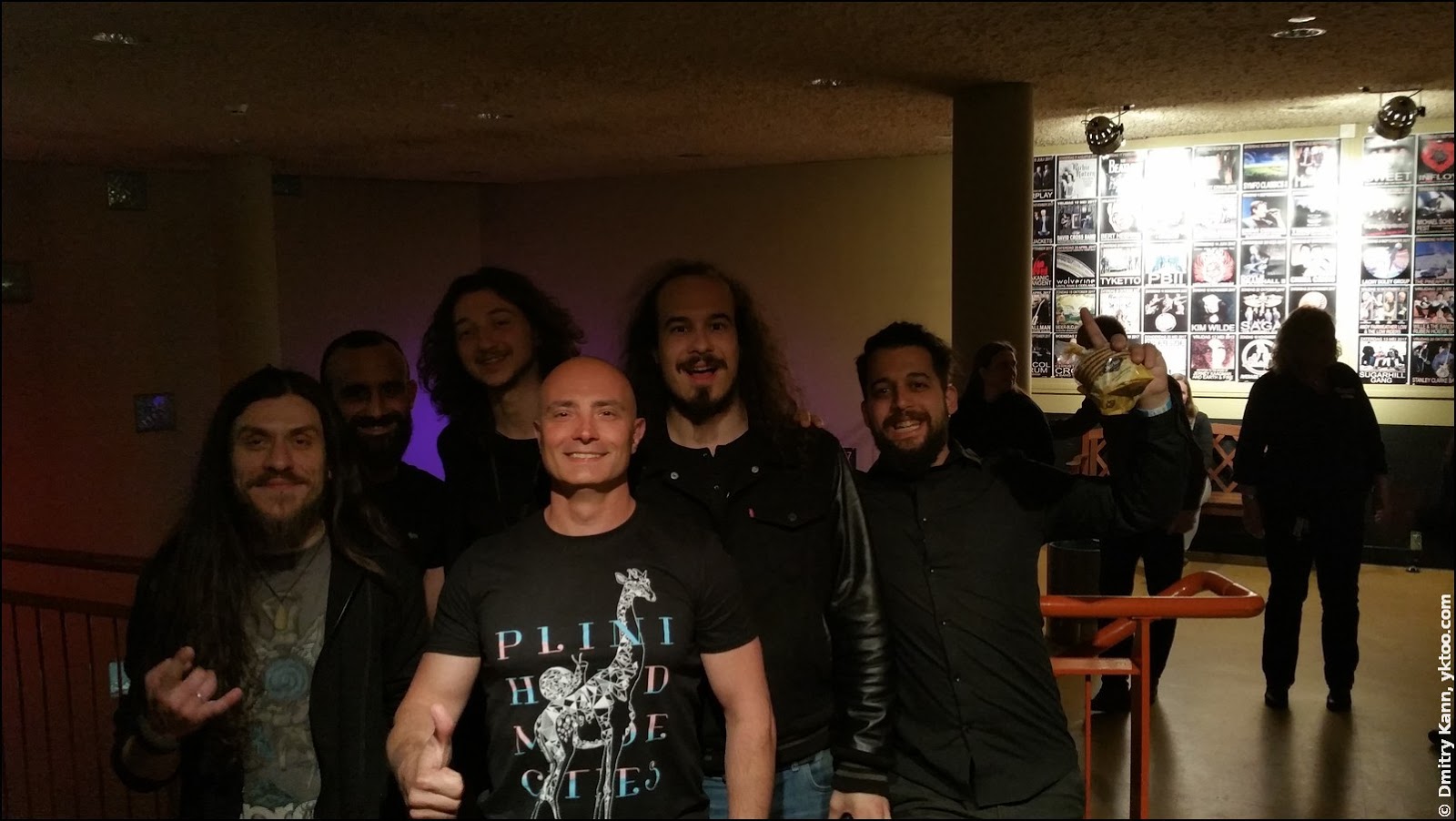 Wolverine
The Swedish band Wolverine has been on my playlist for more than a decade now, and I consider them living classics, just like Anathema (whom they bear some resemblance to).
What's curious is that one gets some graphic image in his head as he listens to a band's music. And in my case, the real Wolverine had nothing in common with that image I had before.
I wouldn't probably recognise the singer Stefan Zell if I bumped into him on the street.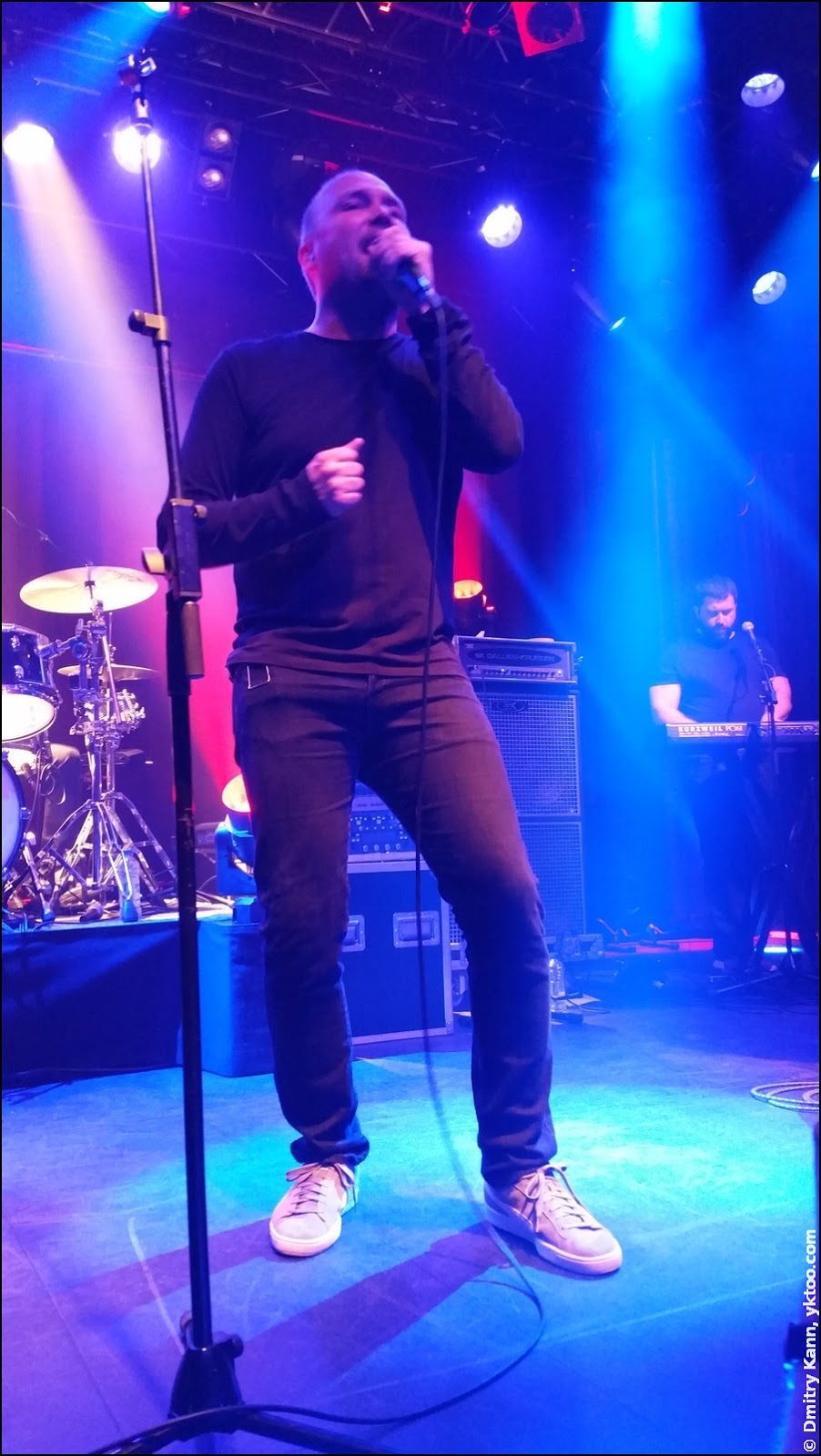 No long hair, no flashy outfits, the musicians looked much like typical office workers.
Per Henriksson on keyboard, notable for his bicepses, and Thomas Jansson on bass: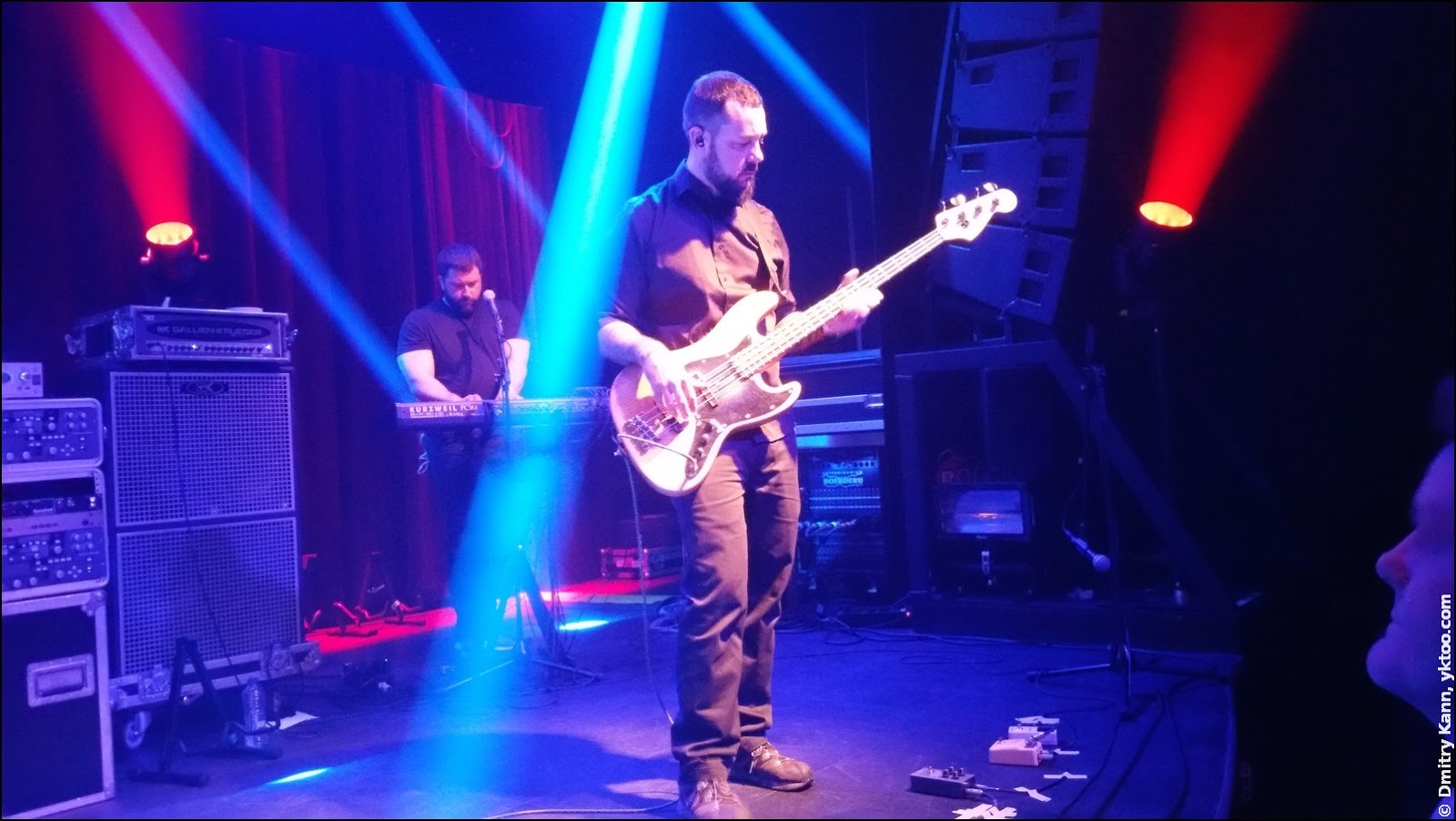 The imperturbable Jonas Jonsson on guitar: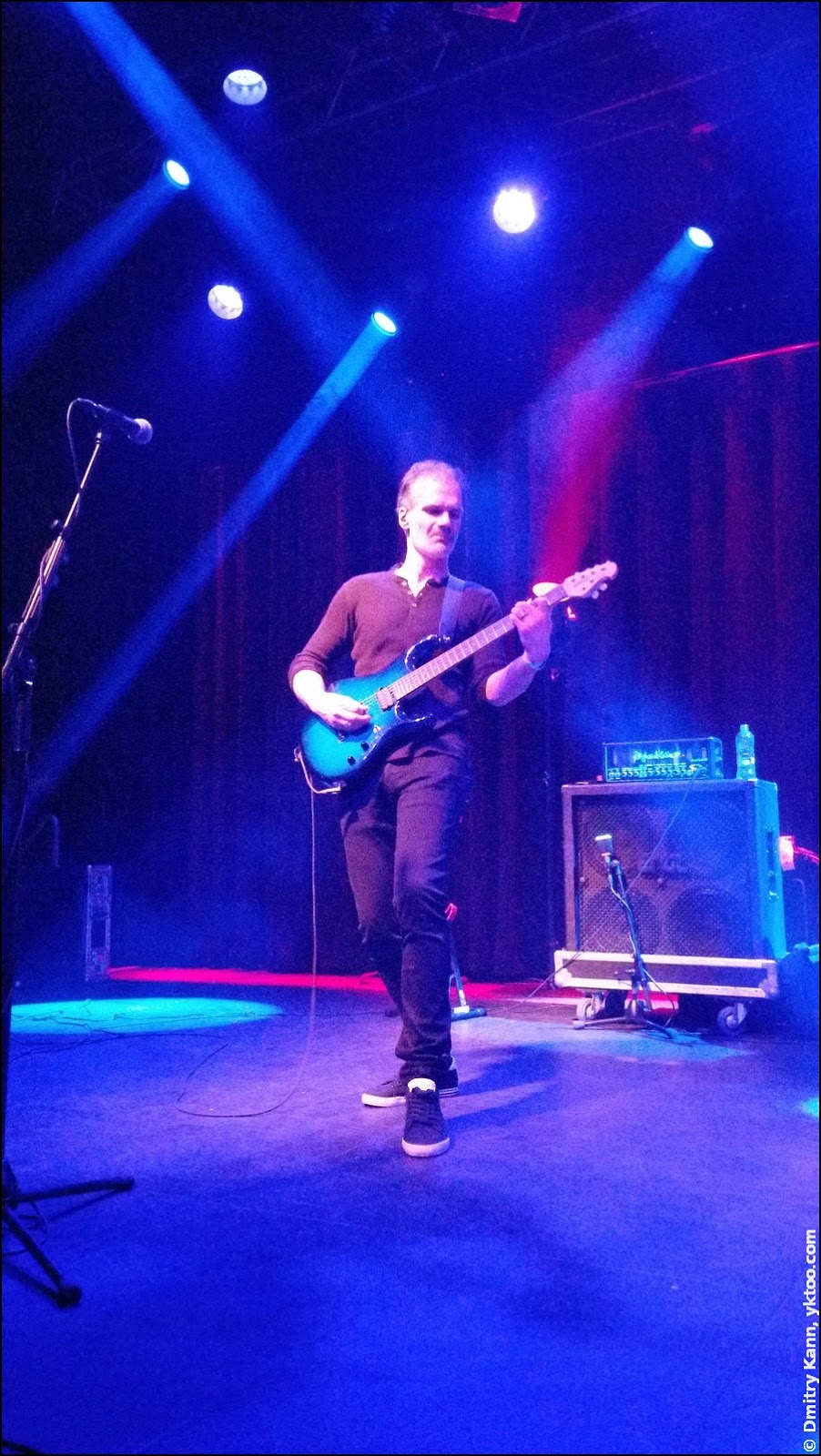 (The drummer Marcus Losbjer is unfortunately nowhere on my photos.)
That said, I don't care at all how they look like, because their music is divine! I also tend to think they weren't delighted at the almost empty club.
Here's one of my favourite songs from the band's recent album Machina Viva called Nemesis:
Stefan mentioned that Holland was his "second home", just like Plini a month ago. Some people say Wolverine plays too many shows here, which I can't agree with.
Unfortunately the band didn't come out after the performance. Which is a pity as I'd really like to talk to them.
---
All of my videos are listed in the sidebar on the right; they are also available on the event page. ■