I've published rare footage I filmed a few years ago. It was a performance given by two greatest jazz musicians of our time, Daniel Kramer (piano) and Arkady Shilkloper (French horn, flugelhorn, alphorn) at Tyumen Concert Hall on February 10, 2008.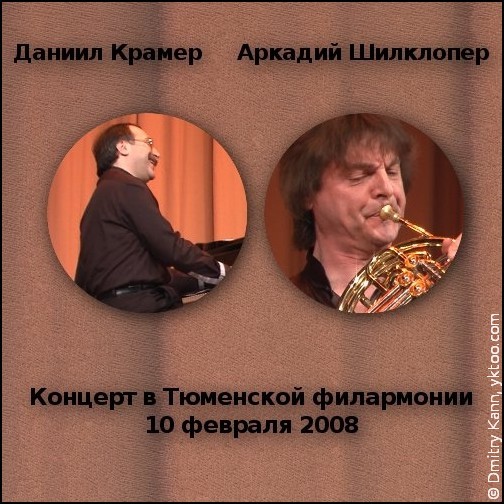 The footage (consisting of 18 videos, including interim announcements) is filmed by me shortly before my departure to Holland. Up until now it's only been available via a torrent at rutracker.org. Daniel Kramer's videos are extremely scarce.
In my personal layman's opinion Kramer is by far the best contemporary jazz pianist. I don't know any other performer of equal expressiveness and technical proficiency. I attended his every concert in Tyumen, which is—sadly—not possible here. Never heard of him performing in Holland.
Shilkloper is admittedly a genius too. However I'm not really into the wind, so it's hard for me to judge.
Here's the first item from the concert, called Folk Song:
I couldn't figure out names of some pieces, so if you recognise any, I'd appreciate if you let me know them.
And to round off the subject: in the coming weekend the yearly jazz festival will take place in Amersfoort again. A lot of live music is expected all around the city centre. Stay tuned. ■